With the 2020 presidential election just twenty days away, Joe Biden's chances of winning the presidency have never been better, according to the U.K. exchange Betfair.
As of October 14, former Vice President Biden's betting odds to win the election have an implied probability of 74%. President Trump's odds to serve another term have an implied probability of 33%, according to Betfair.
Implied probability is the conversion of betting odds into a traditional percentage to show how likely something is to happen.
Here is how those odds have changed over time: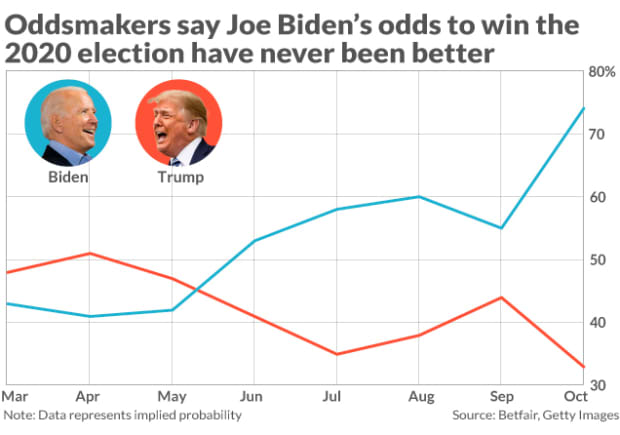 Biden has moved ahead of President Trump in most National and swing-state polls in recent months, according to data compiled by RealClearPolitics.
Biden was first made a favorite over Trump on Betfair's exchange in June of this year.
Trump's worsening odds comes in the wake of him being diagnosed with COVID-19, confirmation hearings for Supreme Court nominee Amy Coney Barrett, and stalling fiscal stimulus talks with Congress.